Peter Han Joo Chong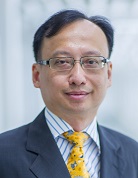 Prof. Peter Han Joo Chong
Auckland University of Technology, New Zealand
Biography: Professor Peter Han Joo Chong is an Associate Head of School (Research) and a Head of Department of Electrical and Electronic Engineering (EEE) at Auckland University of Technology, New Zealand. He received the Ph.D. degree in Electrical and Computer Engineering from the University of British Columbia, Canada, in 2000. He has visited Tohoku University, Japan, and Chinese University of Hong Kong (CUHK), Hong Kong. He is currently an Adjunct Professor at the Department of Information Engineering, CUHK.
He was previously an Associate Professor (tenured) from 2009 to 2016 and Assistant Professor from 2002 to 2009 at the School of EEE, Nanyang Technological University, Singapore. Between 2011 and 2013, he was an Assistant Head of Division of Communication Engineering. Between 2013 and 2016, he was a Director of Infinitus, Centre for Infocomm Technology. From 2001 to 2002, he was with the Radio Communications Laboratory at Nokia Research Center, Finland. Between 2000 and 2001, he worked in the Advanced Networks Division at Agilent Technologies Inc., Canada. He co-founded P2 Wireless Technology in Hong Kong in 2009 and Zyetric Technologies in Hong Kong and New Zealand in 2017.
His current research projects focus on machine learning techniques applied to 5G vehicular networks. He has been developing techniques of deep reinforcement learning (DRL)-based resource management for future 5G Cellular-V2X networks. His company, Zyetric, focuses on developing computer vision technologies for product placement advertising in digital videos. His research interests are in the areas of wireless/mobile communications systems including radio resource management, MANETs/VANETs, green radio networks, and 5G V2X networks. He has published over 200 journal and conference papers, 1 edited book and 10 book chapters in the relevant areas.